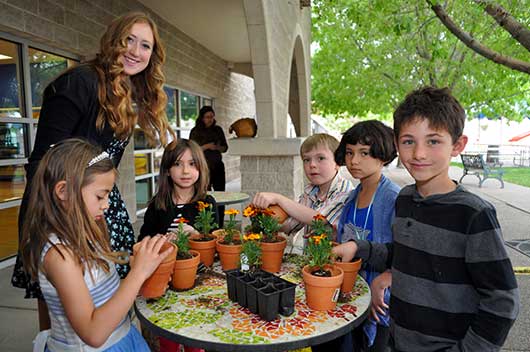 Fun at the JCC
As we pursue the Jewish Community Foundation of New Mexico's goals of building and perpetuating support for a vibrant, caring Jewish community and honoring our Jewish value of Tikkun Olam, the Foundation partners with donors and organizations to distribute grants and scholarships.
These grants help feed families, enhance spiritual and emotional well-being, strengthen Jewish connections, educate children and adults, provide healthcare, create art and music, and assist immigrants and refugees.
In addition, the Foundation awards scholarships to New Mexico youth to attend Jewish sleep-away camps, participate in Israel Experiences, and attend college.
Our Impact by the numbers
$10 Million after-lifetime legacy commitments
$8.5 Million current assets under management
$3.3 Million Grants awarded in the past 10 years
$541,800 Grants awarded and facilitated in 2022
170 Grantees – local, national and international in 2022
80 Scholarships awarded to NM youth in the past 10 years

45 to attend Jewish sleep-away camps
13 to participate in Israel experiences
22 to attend college
Top Impact by Category in 2022
Jewish Community
Jewish organizations that address:

Civil Rights
Holocaust Education
Human Services

Education
Immigrant & Refugee Assistance
Hunger Relief
Currently, our community partners with charitable funds at the Foundation include 57 Donor Families and 15 Organizations.
We invite you to partner with us.
Together, we can enhance our impact, while giving your way!